Exciting things are happening at Project Oz! This year marks 50 years of our organization working to keep young people safe and strengthening families! Not only are we celebrating Project Oz's history and legacy, but we are also kicking off a transformative building project to lead us into the next 50 years! Read on to learn about plans for our new Youth Education and Support Center, our upcoming 50th anniversary celebration, and a little Oz history.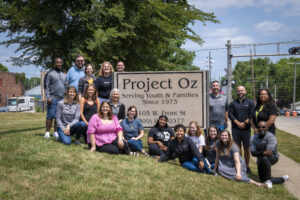 Designing for the Future: The Youth Education and Support Center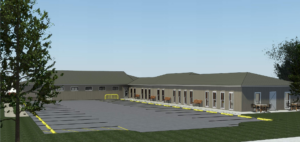 We are thrilled to be able to share the plans for our new Youth Education and Support Center! This major construction project will add approximately 2,500 square feet of flexible space to our existing building.The new space will help us expand our services and better meet the needs of young people experiencing housing instability, family conflicts, and other challenges.
The new Center will be a comfortable space where youth can speak with counselors, learn life and job skills, and connect with technology. It will include a "Nutrition Nook", where they can grab a bite to eat and learn to cook, as well as a "Youth Hygiene Station" complete with laundry facilities, to allow youth visiting our office to clean up with privacy and dignity.  We will also be able to host larger family meetings, restorative circles, trainings, and community events on-site to build connections and encourage important conversations.
Throughout the project, purposeful, youth-friendly, trauma-informed design will create a warm, welcoming environment that promotes healing and communication for youth and families during challenging times.
Click here to learn more about our plans, see drawings, learn about donor recognition opportunities, and donate.
Please consider donating to help Project Oz continue to put our founding values into practice every day. You can help us create safe spaces where young people connect to caring adults and develop the skills they need to achieve their goals and lead happy, healthy, productive lives!
With grant funding from the City of Bloomington and the John M. Scott Trust, we are excited to move forward with this project and expect ground breaking to take place later this year! We would also like to extend special thanks to the Bank of Pontiac, JX Gives Back Family Foundation, US Bank, Compeer Financial, Specs Around Town, Tentac Enterprises, and Road Runner Real Estate Sales and Investments for their support. If your business or organization would like to be a part of the Youth Center efforts, please contact us! In addition to financial support, we are also seeking donated materials and services for the project including landscaping, HVAC, washer/dryer, refrigerator, shingles, gutters, and much more. Email us at projectoz@projectoz.org or call us at 309-827-0377.
A Semi-Centennial Celebration: Kicking Off our 2nd Half-Century!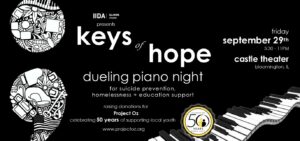 Join us for a night of music and laughter to celebrate Project Oz's 50th Anniversary, hosted by our friends at the Illinois Interior Design Association (IIDA)! The dueling pianos will face off onSeptember 29th at the Castle Theater, with doors opening at 5:30 pm. This event promises to be a fun night of singing along, dancing, comedy, and outstanding piano playing that ranges from classics like Billy Joel and Elton John to contemporary hits and country. Best of all, the proceeds will benefit Project Oz programs! Tickets are on sale here now, along with additional details about the event. Visit here for event sponsorship opportunities, starting at $250, or contact Lisa Thompson (lisat@projectoz.org) for more information.
Project Oz History: Did You Know…?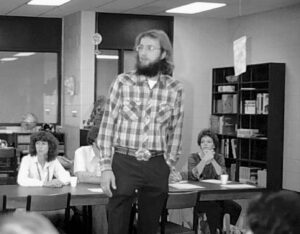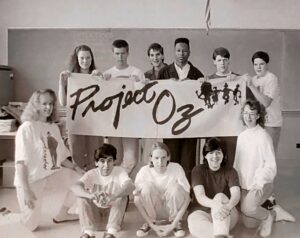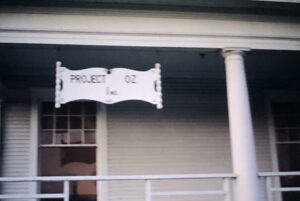 Who founded Project Oz and why?
Chris Carlton and Peter Rankaitis, then students at Illinois State University, founded Project Oz in 1973 as part of a class project.
At the time, teens involved with child welfare were commonly sent to out-of-state institutions, losing vital family and community connections and often returning with bigger problems.
As an alternative, Project Oz offered a drop-in center, where teens could talk about issues in their lives and find support to solve problems, preventing child welfare involvement and keeping them safe and close to home. Seeing the negative impact substance use had on many of the kids and families, Chris and Peter quickly added prevention education services as a second focus.
Chris retired in 1996 and Peter retired in 2018, after successfully leading Project Oz through several decades of growth.
Why are you called Project Oz?
We get this question a lot!
From our earliest days, we wanted kids to feel comfortable and have a voice at Project Oz. So, Peter and Chris asked a group of kids: "What would be a good name for our organization?"
The teens chose "Project Oz", partially as a reference to The Wizard of Oz and the sentiment that "there's no place like home". This allusion seemed appropriate given our focus on helping youth find their way safely home and discovering their own gifts on the journey.
Some long-time friends of Oz may recall that our original logo even included several Wizard of Oz characters (until the big guns in Hollywood asked us to "cease and desist"!).
Have you always been in your current location?
Project Oz's home has always been on the West Side of Bloomington, starting with a small house on Washington Street that was "rented" for $1. Since then, we have moved three times to new locations as the organization grew.
We purchased our current building on West Front Street in 2005. Since then, we have added several new programs, our staff has increased by 30%, and we now reach over 6,000 youth across McLean and Livingston Counties each year. The need to support youth has grown, but we are out of space in our building!
As we work to meet the emerging needs of youth and families, we are committed to investing in our West Side neighborhood and growing our services in our current, easily accessible location.